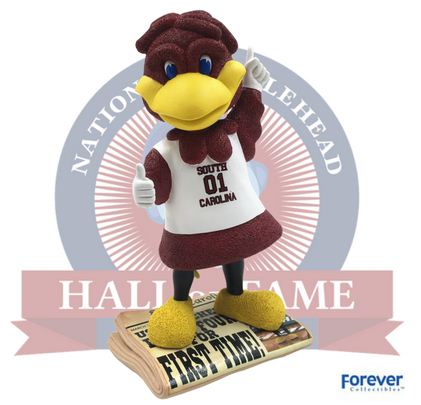 The National Bobblehead Hall of Fame and Museum has unveiled a limited edition bobbleheadcommemorating the South Carolina men's basketball team's first ever Final Four appearance last season.
The bobblehead features Cocky standing atop a newspaper with the headline proclaiming, "USC Reaches Final Four for First Time!" It costs $40, plus a shipping charge of $8 per order.
Each officially licensed bobblehead is numbered and available only online. Just 216 have been produced.
The Gamecocks defeated Marquette, Duke, Baylor and Florida before falling to Gonzaga.
"We're excited to release this bobblehead commemorating South Carolina's first Final Four appearance," Phil Sklar, co-founder and CEO of the National Bobblehead Hall of Fame and Museum, said in a news release. "The Gamecocks have a passionate fan base that waited quite a while to reach the Final Four, and we thought this bobblehead we be a great way for the fans to celebrate the remarkable season."
The 2017 national champion South Carolina women's basketball team also received a bobblehead earlier this year, and a limited number remain available.