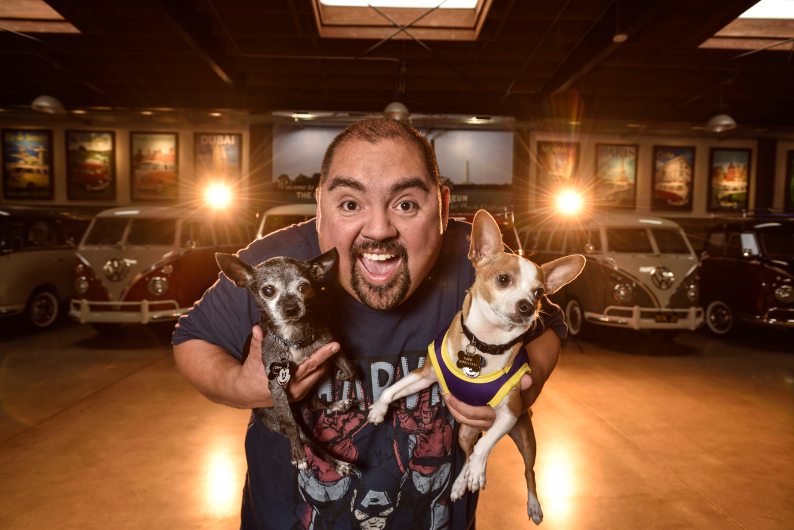 Gabriel Iglesias talks VW buses, connecting with fans and cartoon voice-overs before headlining Staples Center By KELLI SKYE FADROSKI
In a time when comics and other public figures are just one bad or ill-timed Tweet away from obscurity, Gabriel Iglesias knows that fame is fleeting and he is grateful for his loyal and continuously growing fanbase.
For 20 years, he has enjoyed a career as a professional stand-up comedian who has entertained audiences around the world, released numerous comedy specials, had TV and feature film roles and lucrative voice-over gigs. The cherry on top of the Southern Californian's two-decade run is getting to headline his biggest show yet at the Staples Center in Los Angeles on Friday, Jan. 26.
"I think it's poetic, the fact that it's my 20th year and that I've played just about every major venue across the world and it has come full circle to me playing my biggest show here at home," Iglesias, who is also known to his fans as "Fluffy," said during a recent interview inside his Fluffy Compound/Warehouse near his Long Beach home. We were joined by his two Instagram-famous chihuahuas, Vinnie and Risa, who never leave Iglesias' side.
n 2012, Iglesias performed to a sold-out crowd at the Sydney Opera House in Australia and in 2015, he sold out a show at Madison Square Garden in New York City. Those particular gigs were certainly career highlights, but he remembers them as well as the 200-capacity comedy club he sold out the first time he performed in Denver, Colorado a dozen years ago.
"I'm an emotional person," the 41-year-old admitted. "I connect memories to places. For example, last night I performed at the Pepsi Center in Denver, Colorado, where the Nuggets play, and literally right across the street, about four blocks down, was the comedy club I performed in the first time I came to Denver.
"To go from a 200-seat club to a 10,000-seat arena, it's like, wow. I probably spent the first three minutes of the show thanking that crowd and the staff and all the people that made this possible. I enjoy that and I always do my best to take all of it in because you know, in entertainment, you're up one minute and you're gone the next."
Iglesias is proud to be part of an "elite group" of comedians that have been able to perform at Staples Center and also to be able to step on into an arena where he's seen countless Laker games, numerous pro-wrestling matches and dozens of concerts. He's also hoping to get his name on the back of a Lakers jersey so he can frame it and add it to the collection he has proudly on display in his warehouse. The L.A. gig will also serve as the official kick-off to Iglesias' 2018 One Size Fits All Tour.
"I named it that for the simple fact that it really is one show fits all," he noted. "I get people from all walks of life that come out to see me. You see all races, all ages – kids and grandparents – and usually when you see a mixed crowd like mine, it's more of a Cirque du Soleil type show. It's a friendly show that doesn't offend people. I keep my shows so everyone can enjoy it and not throw in a bunch of political views or foul language. Don't get me wrong, I will cuss from time to time, but if I curse, it has a purpose."
On top of keeping his gigs family-friendly, Iglesias is also a very social butterfly. He's always down to head out to meet and greet, take pictures with and sign autographs for with his fans after shows. He said that he realized early on that without the fans, he is nothing.