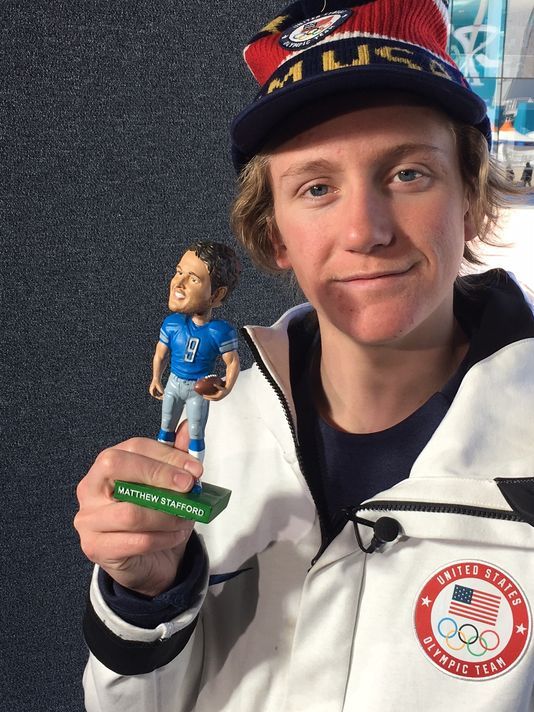 PYEONGCHANG, South Korea — Bobblehead Matt Stafford is having one heck of a Winter Olympic experience; and the best part is, his head hasn't popped off, not yet.
Bobblehead Matt, as his close friends call him, has posed for a picture with Olympic gold medalist Red Gerard.
He has taken a bullet train through South Korea.
Chilled with South Korean men's hockey coach Jim Paek.
Did a selfie with ice dancers Madison Hubbell and Zachary Donohue, who represent the Lansing Skating Club.
More 2018 Winter Olympics:
Come on, it's not that cold in Pyeongchang
Melvindale's Kooreman always races 'as if it's my last'
And taken a picture with the shirtless Tongan flag guy. For the record, Bobblehead Matt kept his Detroit Lions jersey on.
"It's been fun," said Jack Doles, the sports anchor at WOOD-TV in Grand Rapids, who brought Bobblehead Matt along with him to Korea. "Some people think it's corny but some people love it. It has made the experience more fun."
Doles is the first to admit that he brought Bobblehead Matt along as a social media prop, a bit of plastic shtick that's been quite the hit.
"I was looking for a social media hook," said Doles, who is working his 10th Olympic Games and happens to be one of the nicest guys in the business. "I needed something that might get people's interest. Frankly, I'm not Mr. Social Media. As I was trying to think of an idea, there was Bobblehead Matt. I thought, 'That's it. I will take him to the Olympics with me.'"
Doles carries Bobblehead Matt around in a box in his backpack.
In case you were wondering, we are told that Bobblehead Matt is one of the highest-paid bobbleheads in the world. No longer No.1, but still raking in the plastic.
More: Detroit Lions QB Matthew Stafford's reign as highest-paid NFL player over
"This morning, I was walking through Olympic Park and there was Madison Hubbell and Zachary Donohue," Doles said, "and he actually took a selfie with Bobblehead Matt."