Clemson vs. South Carolina Rivalry Bobblehead Unveiled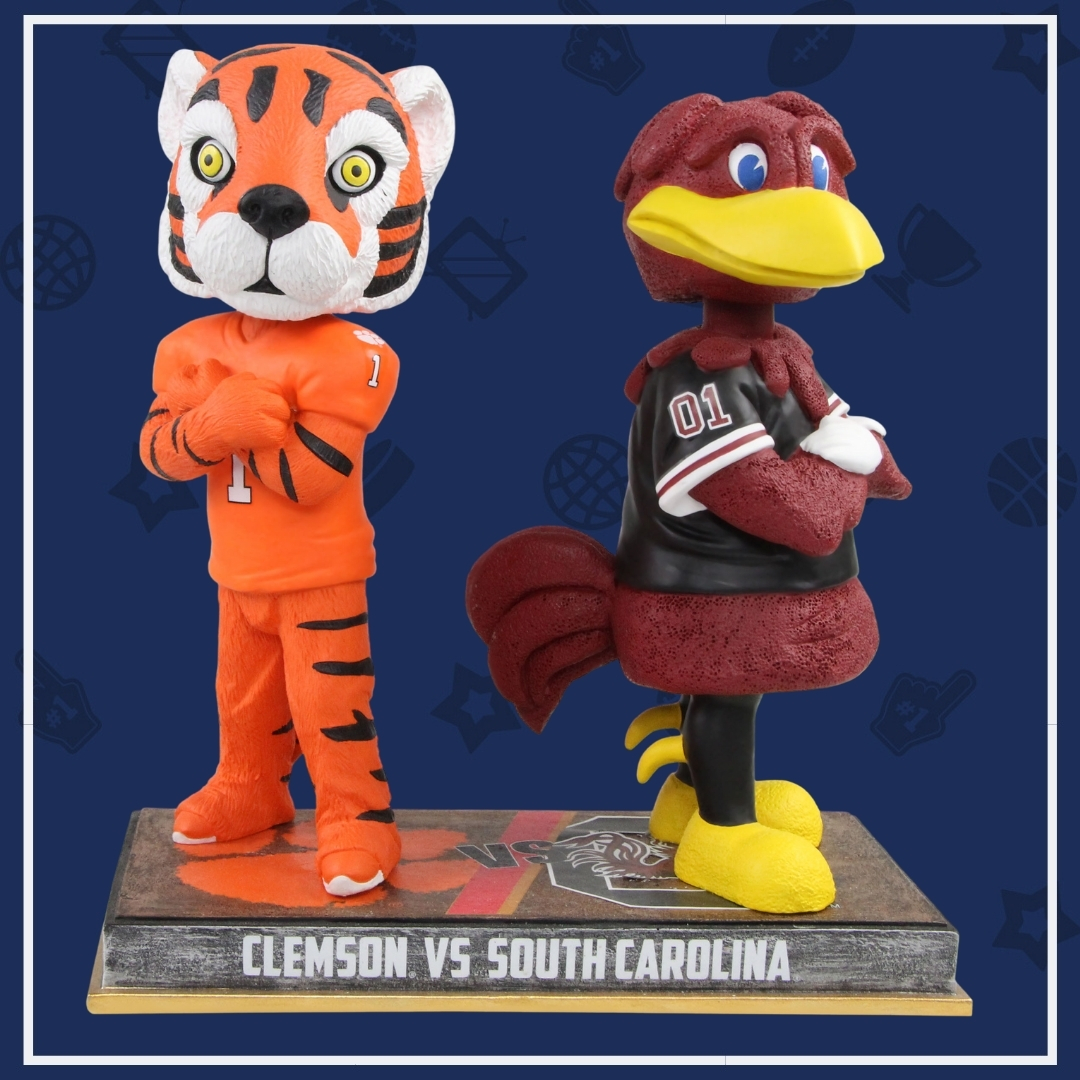 MILWAUKEE – This morning, the National Bobblehead Hall of Fame and Museum unveiled an officially licensed, limited edition bobblehead celebrating the Clemson vs. South Carolina rivalry. This is the first bobblehead to commemorate the in-state rivalry and features Clemson University mascot, The Tiger, and University of South Carolina mascot, Cocky, standing back-to-back as rivals with their arms crossed. The bobbleheads were produced exclusively for the National Bobblehead Hall of Fame and Museum by FOCO, an official licensee and manufacturer of Clemson University, University of South Carolina, and NCAA merchandise.
Each bobblehead is individually numbered to 1,000 and they are only available through the National Bobblehead Hall of Fame and Museum's Online Store. The bobbleheads, which just arrived and ship now, are $60 plus a flat-rate shipping charge of $8 per order.
The Clemson-South Carolina rivalry, also called the Carolina-Clemson rivalry, is one of only a handful of in-state rivalries where the teams are in different premier conferences with South Carolina in the SEC and Clemson in the ACC. Separated by only 132 miles, the schools compete in the Palmetto Series, which is an athletic, head-to-head competition in more than a dozen sports throughout the school year.
Since 1960, the football matchup has been held in late November, usually on Thanksgiving weekend, however, the game that was originally scheduled for November 28, 2020 was cancelled due to the COVID-19 pandemic, ending an unbroken streak of 111 years of games between the two schools. The football rivalry game was dubbed the Palmetto Bowl in 2014, and Clemson has won the last six meetings. The Tigers hold a 71-42-4 advantage in the all-time series, which started in 1896. In baseball, the teams have played 321 times in what has been called "college baseball's most heated rivalry" with Clemson holding a 179-140-2 advantage. The rivalry is also heated on the basketball court, with the South Carolina men leading the all-time series, 91-79, while the Clemson women hold a slim 33-32 edge.
"We're excited to release this bobblehead commemorating the fierce rivalry between Clemson and South Carolina," National Bobblehead Hall of Fame and Museum co-founder and CEO Phil Sklar said. "The Palmetto Series is unique in college sports and what makes this rivalry so special."
About the National Bobblehead Hall of Fame and Museum:
The National Bobblehead Hall of Fame and Museum, which is located at 170 S. 1st. St. in Milwaukee, Wisconsin, opened to the public on February 1st, 2019. The HOF and Museum also produces high quality, customized bobbleheads for retail sale as well as organizations, individuals and teams across the country. Visit us online and on Facebook, Twitter and Instagram.
About FOCO:
FOCO is a leading manufacturer of sports and entertainment merchandise celebrating more than 20 years in the industry. The company's always-growing product lines includes apparel, accessories, toys, collectibles, novelty items, and more. FOCO is licensed with all major sports leagues including the NFL, MLB, NBA, NHL, NASCAR, MLS and over 150 colleges and universities as well as entertainment properties such as Disney, Warner Bros/DC Comics, Nickelodeon and WWE. Please reach out to Matthew Katz, Licensing Manager, P 848-260-4315 - mkatz@foco.com for more information. Follow @FOCOusa on Facebook, Twitter, and Instagram for more exciting news and new product releases.