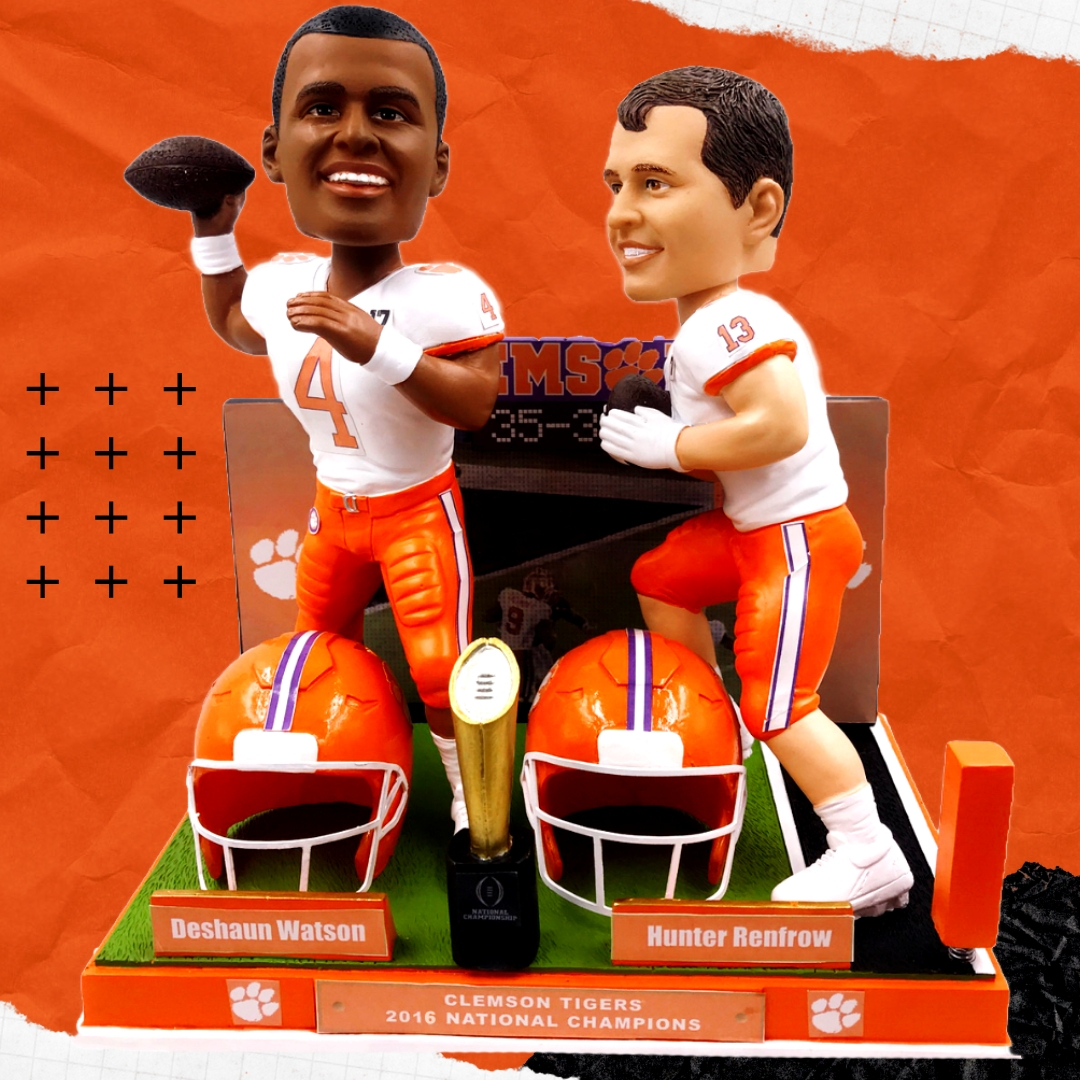 Clemson Tigers Watson to Renfrow Championship Bobblehead Unveiled
MILWAUKEE – This morning, the National Bobblehead Hall of Fame and Museum unveiled an officially licensed, limited edition bobblehead commemorating Deshaun Watson's last-second touchdown pass to Hunter Renfrow for Clemson in the 2017 National Championship game. This is the only bobblehead commemorating the memorable, last-second game-winning moment that secured Clemson's second National Championship. The bobbleheads are being produced exclusively for the National Bobblehead Hall of Fame and Museum by FOCO, an official licensee and manufacturer of Clemson and NCAA merchandise.
The dual bobblehead features a snapshot of the historic play with Watson dropping back to pass and Renfrow catching the ball near the pylon on a football field base. The base, which says "Clemson Tigers 2016 National Champions" also has a replica of the National Championship trophy. The backing has a picture of the historic play as well as the final score of the 35-31 victory over Alabama. Each player also has a removable helmet.
Each bobblehead is individually numbered to only 2,017, and they are only available through the National Bobblehead Hall of Fame and Museum's Online Store. The bobbleheads, which are expected to ship in April, are $65 plus a flat-rate shipping charge of $8 per order.
On January 9, 2017, in Tampa, Florida, Watson's game-winning 2-yard touchdown pass to Renfrow with one second left set off a wild celebration and lifted the Tigers to the second national title in school history. It was the second TD of the game for Renfrow, a former walk-on who finished the game with 10 catches for 92 yards.
Coached by Dabo Swinney, it was the first national championship in 35 years for Clemson, which had lost to Alabama in the final the previous season. With Watson having moved on to the NFL as a first-round draft choice of the Houston Texans, Renfrow would help the Tigers win their third national title two years later with another victory over Alabama.
"Deshaun Watson's touchdown pass to Hunter Renfrow with one second left is one of the most thrilling finishes in the college football history and arguably the biggest single play in Clemson sports history," National Bobblehead Hall of Fame and Museum co-founder and CEO Phil Sklar said. "We think this bobblehead is the perfect way for Tigers fans to commemorate the historic moment and title."
About the National Bobblehead Hall of Fame and Museum:
The National Bobblehead Hall of Fame and Museum, which is located at 170 S. 1st. St. in Milwaukee, Wisconsin, opened to the public on February 1st, 2019. The HOF and Museum also produces high quality, customized bobbleheads for retail sale as well as organizations, individuals and teams across the country. Visit us online and on Facebook, Twitter and Instagram.
About FOCO:
FOCO is a leading manufacturer of sports and entertainment merchandise celebrating more than 20 years in the industry. The company's always-growing product lines includes apparel, accessories, toys, collectibles, novelty items, and more. FOCO is licensed with all major sports leagues including the NFL, MLB, NBA, NHL, NASCAR, MLS and over 150 colleges and universities as well as entertainment properties such as Disney, Warner Bros/DC Comics, Nickelodeon and WWE. Please reach out to Matthew Katz, Licensing Manager, P 848-260-4315 - mkatz@foco.com for more information. Follow @FOCOusa on Facebook, Twitter, and Instagram for more exciting news and new product releases.