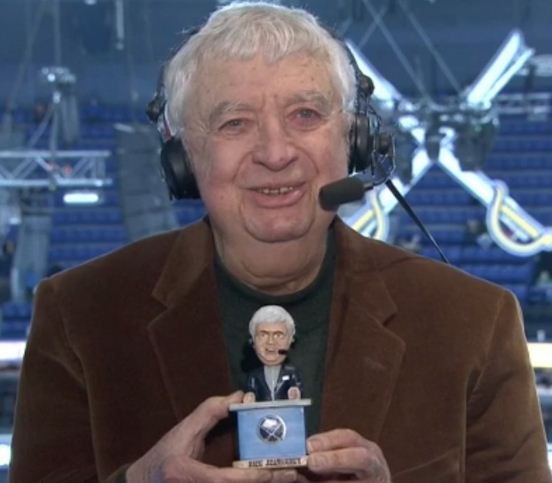 In Nov. 2011, legendary Buffalo Sabres play-by-play broadcaster Rick Jeanneret was inducted into the Buffalo Sabres Hall of Fame. In Nov. 2012, he was inducted into the Hockey Hall of Fame.
These days, he's going somewhere else: on shelves in hockey fans' homes everywhere.
The Promotion
Earlier this week, the Buffalo Sabres announced a special Rick Jeanneret bobblehead doll for sale with net proceeds to benefit the Sabres Foundation and Kevin Guest House. It's a terrific idea to raise money for the organizations that do so much to help families in need in the community.
Each bobblehead plays five classic Rick Jeanneret play-by-play calls and can be purchased for $30. Autographed versions of the bobblehead were made available for $75. A special $150 package includes one talking bobblehead, two 300-level tickets to the Sabres vs. Boston Bruins game on Sunday, Feb. 25 and an exclusive meet-and-greet with the beloved announcer prior to the game.
The Bobblehead
Jeanneret has coined his fair share of instant classic calls since being in the broadcast booth in 1971. "Mostly they just pop out of me and I'm thankful over the years the wrong thing hasn't popped out," said the man who says he has the best job in hockey. "There's not too many of them that I've thought about ahead of time."