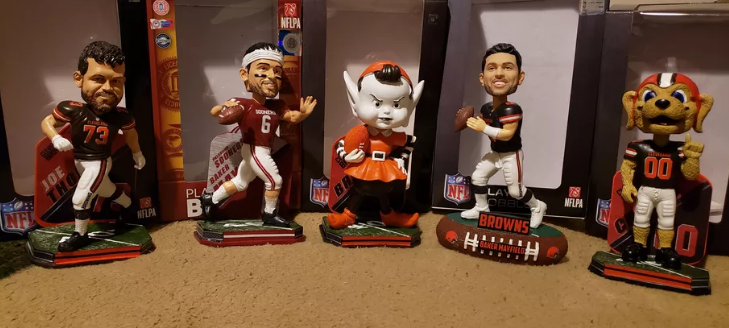 We would like to give a big shout out to the National Bobblehead Hall of Fame and Museum, who provided us with an awesome collection of Cleveland Browns bobbleheads. With the exception of the Browns' Baker Mayfield bobblehead, these are only available via the National Bobblehead Hall of Fame Museum. The manufacturer of the bobblesheads is FOCO.
These would make perfect gifts for any Browns fan if you're thinking of the holiday season coming up!
Last year, I got the college versions of the Myles Garrett and Jabrill Peppers bobbleheads, and they have each made for great decorations in my office at work. I love the quality of each of these bobbleheads. I'll admit, the only one that looked weird to me at first was Brownie the Elf. I have gotten used to it after awhile, though, and positioning it in the center of the other bobbleheads makes it more appealing.
The bobbleheads range from $30 to $40, with a flat rate shipping charge of $8 per order. Let us know in the comments section below if you end up ordering any! Below are individual, up-close shots of each bobblehead.