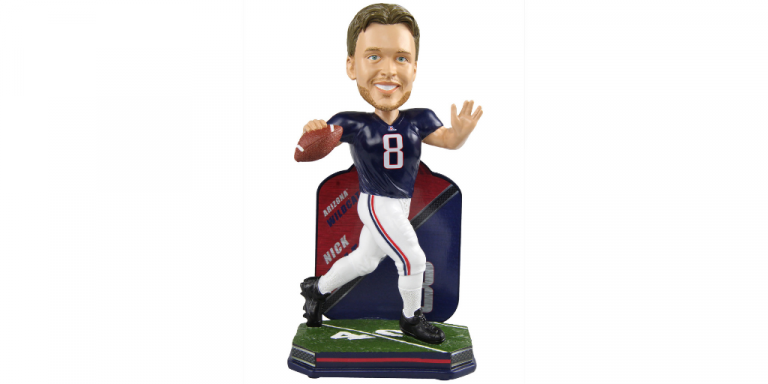 First Nick Foles Arizona Wildcats Bobblehead Unveiled
First bobblehead featuring Nick Foles in his University of Arizona Wildcats uniform is now available from the National Bobblehead HOF and Museum.
MILWAUKEE, Wi., January 11, 2019 – – Today, the National Bobblehead Hall of Fame and Museum unveiled an officially licensed, limited edition bobblehead featuring NFL star, Nick Foles, in his University of Arizona Wildcats uniform. Before leading the Philadelphia Eagles to a Super Bowl LII win last year and adding to his folk hero status with his remarkable play late in the season and during the playoffs this year, Foles was a standout at the University of Arizona, where he threw for 4,334 yards and 28 touchdowns in his senior season. This is the first bobblehead featuring Foles in his University of Arizona Wildcats jersey.
The bobbleheads are individually numbered to only 2,018 and are $40 each with a flat rate shipping cost of $8. They are only available from the National Bobblehead Hall of Fame and Museum and are in stock now. The bobbleheads were produced for the National Bobblehead HOF and Museum by FOCO.
Foles became a legend in Philadelphia after leading the Eagles to the Super Bowl LII title in relief of starter Carson Wentz, who suffered a season ending injury late in the regular season. After starting the final three games of the regular season, Foles led the Eagles through the playoffs, which was capped by his MVP performance in Super Bowl LII where he threw for 373 yards and three touchdowns.
Nick Foles was selected by the Philadelphia Eagles in the third round with 88th overall selection in the 2012 NFL Draft. Foles grew up in Austin, Texas and was a two-year starter for the Westlake High School football team where he threw for 5,658 yards and 56 touchdowns, breaking most school records previously held by Drew Brees. Foles transferred to Arizona after one year at Michigan State where he appeared in a single game as a freshman. Foles, who had 67 touchdowns and over 10,000 passing yards in three years at Arizona, graduated with a degree in communication.
Foles finished the 2013 regular season with 27 touchdown passes and only 2 interceptions with the Eagles, but was traded to the St. Louis Rams in 2015, but when the Rams drafted quarterback Jared Goff with the first pick in the 2016 NFL Draft, Foles was granted a release. After playing the 2016 season with the Kansas City Chiefs, Foles returned to the Philadelphia Eagles and led the team to its first Super Bowl title.

"Nick has such a great story with his return to Philadelphia and leading the team to an unprobeable Super Bowl title last year and the playoffs this year," Phil Sklar, Co-Founder and CEO of the National Bobblehead Hall of Fame and Museum, said. "Arizona fans are extremely proud of Nick and his accomplishments both in college and the NFL. This bobblehead is the perfect way to show off that pride as Nick continues another unexpected run in the playoffs!"

About the National Bobblehead Hall of Fame and Museum:
The National Bobblehead Hall of Fame and Museum is finishing set-up of its permanent location, which is expected to open this winter. The HOF and Museum was announced in November 2014 and hosted a Preview Exhibit in 2016. The HOF and Museum also produces high quality, customized bobbleheads for organizations, individuals and teams across the country. Visit us at www.BobbleheadHall.com, www.facebook.com/BobbleheadHall or www.twitter.com/BobbleheadHall.

About FOCO:
Previously known as Team Beans, LLC and Forever Collectibles, FOCO is a leading manufacturer of sports and entertainment merchandise celebrating more than 17 years in the industry. The company's ever-growing product lines include apparel, accessories, toys, collectibles, novelties, footwear, holiday and more. FOCO is licensed with all major sports leagues including the NFL, MLB, NBA, NHL, NASCAR, MLS and over 100 colleges and universities as well as entertainment properties such as Disney, Warner Bros/DC Comics, Nickelodeon and Sanrio. Please reach out to Matthew Katz, Licensing Manager, mkatz@foco.com for more information.