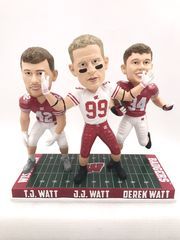 The jerseys have changed, but the Watt brothers will always be linked on the gridiron.
The National Bobblehead Hall of Fame, a Milwaukee-based institution that released a bobblehead of J.J., Derek and T.J. Watt together, adorned in Badgers uniforms, has now released a second version with each player donning their respective NFL jerseys: the Houston Texans for J.J., the Los Angeles Chargers for Derek and the Pittsburgh Steelers for T.J.
The limited edition bobbleheads, numbered to 1,000, are expected to ship in May. They're $75 apiece, plus $8 shipping.
The Pewaukee High School natives were portrayed by the Hall of Fame in their Badgers uniforms for a bobblehead that sold out its inventory of 360.
RELATED: Watt brothers immortalized together by National Bobblehead Hall of Fame
"The bobblehead featuring the brothers in their Wisconsin jerseys was extremely popular, and there were a lot of requests to produce an NFL version," said Phil Sklar, the co-founder and CEO of the National Bobblehead Hall of Fame and Museum, which expects to open a brick-and-mortar location in April 2018 at 170C S. 1st St. in Milwaukee (above Stack'd and Colectivo).
The organization is also planning a series of "Badgers Football Stars" bobbleheads, including Russell Wilson, Joe Thomas and James White, plus individual bobbles for the three Watt brothers. They sell for $40 apiece and $225 for the full set.
The museum is also planning to produce a "Draft Day Bobblehead" of J.J. Watt, who was selected with the 11th overall pick in the 2011 NFL Draft.