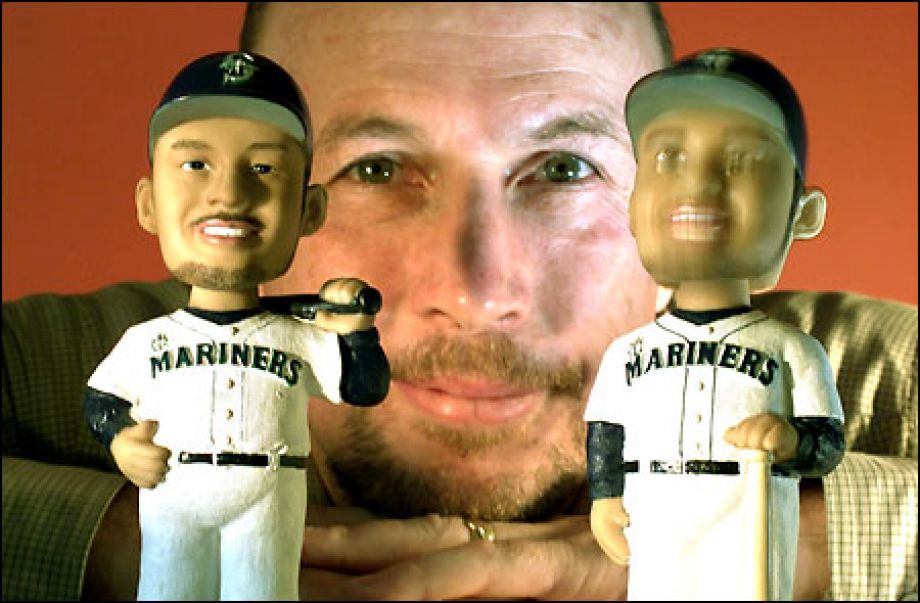 From Seattle Post-Intelligencer – Thursday, July 26, 2001
For the M's fan with everything, a doll with a difference
What is this world coming to?
Beginning at midnight tonight, a small city of people will emerge from the darkness, surrounded by its own police force, oblivious to the time and temperature, with a collective purpose: To obtain a ceramic figurine of a multitalented Japanese baseball player made in a Chinese community that knows no other industry and sold by an enterprising Australian.
"America's a great country, isn't it?" says a gleeful Malcolm Alexander, owner of bobblehead-making Alexander Global Promotions, who will view these proceedings from a safe, and profitable, distance.
What you have is one of the world's most recognizable athletes, Seattle Mariners right fielder Ichiro Suzuki, merged with a long-lost souvenir art enjoying a Woodstock-like revival under the astute leadership of Alexander, a former Aussie rugby player.
What you hope you don't have is the Western version of the running of the Pamplona bulls.
The first 20,000 Mariners fans inside the gates tomorrow will receive a miniature, bobbing Ichiro. Twenty-five thousand people will not.
The "lucky" ones will have to stand in a long line outside Safeco Field, watching the sun rise. They will also have to adhere to a rigid set of rules to reach for the first Ichiro bobbleheads, available at 10 a.m. — three hours before the start of tomorrow's game against the Minnesota Twins.
The dolls will be kept in an off-site warehouse until about 6 a.m., when they will be put in a truck and delivered to Safeco Field.
An undisclosed number of off-duty police officers and club security staff members will monitor this curious cultural interlude. Their marching orders are to make sure no one "cuts" in line, tries to hold spots for others or gets hurt.
"I'm going to go early to see the crowd," Alexander said. "That's the story."
The Mariners have had overnight crowds for postseason tickets and a 1998 Beanie Baby giveaway promotion, but nothing quite as fever-pitched or profit-driven as the Ichiro keepsakes.
"We're not expecting major problems," said Rebecca Hale, Mariners director of public information, "but we want to have a plan in place in case something comes up."
If detected tomorrow, dealers will be asked to leave the grounds.
Still, those with a financial windfall in mind should be able to sell their Ichiro bobbleheads from the weekend giveaway for $100 to $150, according to Mike Livingston, owner of U Trading Cards.
Judging by other bobblehead promotions, the Ichiro bobbles will be gobbled in a matter of minutes.
Seven Major League Baseball teams have had similar promotions since July 4. Fans in each city have lined up early and deep to get the hottest giveaway promotion since the Beanie Baby.
"The appeal for the new ones is strictly p-r-o-f-i-t," said Tim Hunter, who sells vintage bobbles in Reno, Nev., and wrote "Bobbing Head Dolls: 1960-2000."
Business is bobbing
In two years, Alexander has fashioned dolls after more than 500 different athletes and personalities. Each hand-painted, the bobbleheads are produced in a factory in a small town in southern China. The work force has jumped from 150 to 3,500.
"The sole occupation there is the bobblehead doll," said Alexander, who said he requires pay and working conditions to be kept well above minimum standards. "I want to sleep comfortably at night. There's too much equity to tarnish the reputation."
He expects sales to reach $20 million in 2001 alone; all orders, no inventory. By March this year, his company matched the revenue earned in 2000.
Ichiro represents the crest of this new millennium cloning process.
The Mariners planned this promotion in January, never imagining that the seven-time batting champion in Japan would emerge as a superstar in his first season, let alone be the leading vote-getter for the All-Star Game.
"I thought we were superstar-less," Mariners pitcher Paul Abbott said. "People obviously are recognizing us by our bobbleheads."
All 10,000 Ichiro dolls made available for the All-Star Game's FanFest activities were snapped up within 48 hours, sold for $35 per bobble bauble.
At least the first time around.
A Japanese businessman bought the final 300 Ichiro dolls at FanFest and reportedly sold them within a few days in his country for up to double the original price. He may have acted too rashly in his dealings.
An Ichiro bobblehead last week fetched a final auction price of $803 on MLB.com, according to Jonathan Rappaport, 35, who has been watching this collectibles market very closely.
The Seattle personal injury attorney and his younger brother, Caleb, 22, made three large FanFest bobblehead purchases, needing a car and a truck to transport all of the dolls home from a Kent warehouse.
"It was hundreds and hundreds of dolls, filling up my entire living room; it was many, many thousands of dollars," said Rappaport, who wouldn't reveal exact numbers of bobbleheads obtained or cash exchanged. "Just say I could have bought a new car for what I spent."
The son of a Midwest antiques dealer, Jonathan Rappaport sensed something unique in the bobbleheads. Impulsively, he handed over a credit card to cover his hunch. That brought a quick call from a security company to see if his card had been stolen.
The Rappaports next created a Web site, Ichibob.com, and started dealing Ichiro, Cal Ripken Jr., Derek Jeter and complete sets of 15 different dolls. Every night, they've stayed up late, boxing orders for shipping, finding themselves overwhelmed by the response.
To date, the Rappaports have sold 10 percent of the dolls they bought and have recovered their original investment. The sets are gone.
They still have 400 Ichiros left to peddle. Their asking price is $140 per doll.
"We may raise it soon," Jonathan Rappaport said. "They're selling quickly."
Japan hasn't quite caught onto this craze. Once that happens, the price for these dolls could be prohibitive.
Nobutaka Shimotsuma, an Osaka man who makes TV commercials, was given an Ichiro bobblehead from a friend who traveled to Seattle for the All-Star Game. He had caught glimpses of the doll on Japanese TV reports. He hadn't seen any in memorabilia shops in his country. He wanted one in the worst way.
"I'm not that big a collector in terms of the MLB items, but I was real desperate to have one of those for the 'Hall of Fame' at my house," he said.
His Ichiro bobblehead is prominently displayed next to his two Mark McGwire commemorative bats and his Ozzie Smith replica gold glove, all obtained through Web site purchases.
Madness hard to comprehend
For those in the collectibles arena, Ichiro has meant big business.
His SPx rookie trading card, complete with swatch of jersey and autograph, books for $800. By comparison, Ken Griffey Jr.'s top rookie card today commands $160.
A Safeco Field base used on opening day, marking Ichiro's big-league debut, actually drew a high bid of $2,701 on MLB.com before All-Star Game festivities commenced.
Overall, Ichiro card sales have cooled slightly in recent weeks because of his first big-league slump.
"People were buying five, six or eight rookie cards at a time," said Livingston, who was getting $25 to $35 for each except the SPx card. "Since his batting average dropped into the .320s instead of the .350s, it's been a little less crazy."
For the next 24 hours at Safeco, the silliness should be restored to previous levels.
Not all of the Mariners players comprehend this madness, such as tonight's doll-driven slumber party.
Japan-born closer Kazuhiro Sasaki, for instance. He'll have his own bobblehead giveaway night in September. This is all new to him.
"In Japan, they don't do things like this," he said through an interpreter. "They don't give things away."
Growing up closer to home, pitcher Aaron Sele, a Washington State University graduate from Poulsbo, understands some of the motivation behind a fan all-nighter, but not all.
"I'd do it for concert tickets maybe," he said. "I camped out for Apple Cup tickets when I was a freshman in college. For a bobblehead doll, no way."
Of course, Sele doesn't have his own miniature likeness yet. Once that happens, he may change his mind.
Haven't seen a bobblehead do anything but give an affirmative nod so far.