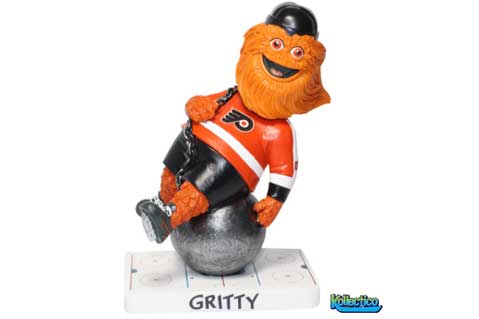 In what is probably the most expected merchandising move of all time, Gritty has got himself a bobblehead.
On presale for $110 (for the set of three), the miniature statues of the Philadelphia Flyers' new mascot are available from the National Bobblehead Hall of Fame and Museum. Kollectico is making the bobbles, which are officially licensed by the Flyers and the National Hockey League. Set to ship Feb. 19, the Gritty bobbleheads come in three varieties. Only 500 of each are reportedly being produced. The above image shows the "Wrecking Ball" bobblehead – a nod to Gritty's theatrics earlier this year when he descended from the ceiling of the Wells Fargo Center, where the Flyers play, to the tune of Miley Cyrus' "Wrecking Ball."
The second Gritty bobblehead pays homage to Rocky, the famous fictional boxer from the City of Brotherly Love whose training run up the steps of the Philadelphia Museum of Art is one of the most iconic scenes in movie history. The bobble depicts Gritty, arms raised triumphantly like Rocky, on the steps.