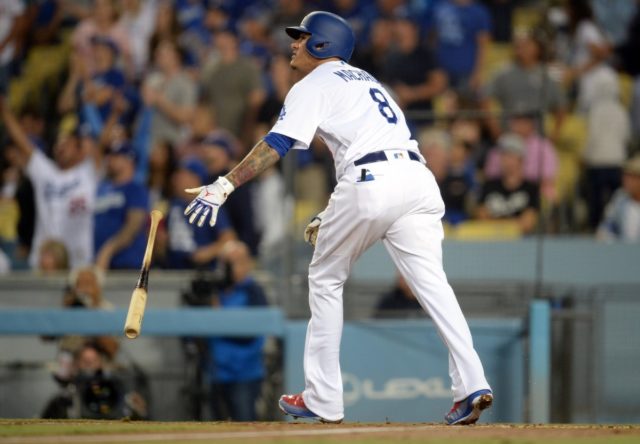 Searching for a high-impact talent at the non-waiver trade deadline, the Los Angeles Dodgers acquired Manny Machado, who was widely considered to be the best player available. Machado also filled a need for the Dodgers as they'd already lost Corey Seager to Tommy John surgery.
On top of being regarded as one of the game's best shortstops, Machado was in the midst of a career season with the Baltimore Orioles. In 96 games before the trade, he hit .315/.387/.575 with 21 doubles, 24 home runs, 65 RBI and a 165 OPS+.
Machado has yet to match or come close to that production with the Dodgers, and he's also appeared to press in certain situations. However, he delivered in a big way Saturday night, going to the opposite field for a three-run home run.
It came on Manny Machado Bobblehead Night at Dodger Stadium, but more importantly to the team, it extended the Dodgers' lead to 6-0 and capped off a five-run third inning. Following their win, Machado admitted to that being a big moment, via SportsNet LA:
The home run was Machado's 12th with the Dodgers and it also brought him to 100 RBI on the season for the first time in his career. Manager Dave Roberts pointed to his success as being a key component for the Dodgers as they look to win a sixth consecutive National League West title and find success in the postseason.
On a personal level, Machado's production could have an impact on his forthcoming free agency this winter. Though, he already is expected to sign one of the more lucrative contracts in MLB history based on his age and track record.
Of course, a strong showing with the Dodgers down the stretch of the regular season and possibly into the postseason would do nothing but increase his value.