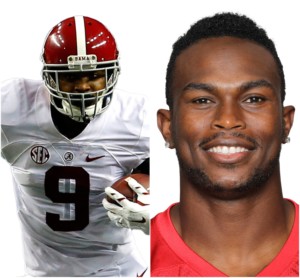 Today, the National Bobblehead Hall of Fame and Museum unveiled limited edition bobbleheads featuring star NFL wide receivers, Amari Cooper and Julio Jones, in their Alabama Crimson Tide uniforms. Before rising to stardom with the Falcons and Raiders, Cooper and Jones were stand-outs at Alabama.
Julio Jones was selected by the Atlanta Falcons with the sixth overall pick of the 2011 NFL Draft. Jones became the first true freshman wide receiver to start in a season opener for the Crimson Tide and was named SEC Freshman of the Year at the end of the season. During his sophomore season with Alabama in 2009, Jones helped lead the Crimson Tide to an undefeated 14–0 season, including a victory in the 2010 BCS National Championship Game. Jones has been selected to four Pro Bowls and was a first-team All-Pro selection in 2015 after leading the league in receiving yards. He also helped lead the Falcons to Super Bowl LI.
Amari Cooper was drafted by the Raiders with the fourth overall pick in the 2015 NFL Draft. As a freshman, Cooper led the Crimson Tide to the BCS National Championship, catching six passes for 105 yards and two touchdowns in the National Championship Game. Cooper declared for the NFL draft after two more standout years that pushed him to the top of the leaderboard in receptions (229), receiving yards (3,463), and receiving touchdowns (31). Cooper, who helped lead the Raiders back to the playoffs for the first time in over a dozen years, was selected to the Pro Bowl in his first two season.
"Julio and Amari both had great success at Alabama and have gotten off to tremendous starts in the NFL," said Phil Sklar, Co-Founder and CEO of the National Bobblehead Hall of Fame and Museum. "We thought bobbleheads featuring both of them in their Crimson Tide uniforms would be great collectibles for fans."
The officially licensed and individually numbered bobbleheads are $40 each. They are only available from the National Bobblehead Hall of Fame and Museum and are expected to ship in November. The bobbleheads were produced for the National Bobblehead HOF and Museum by Forever Collectibles.