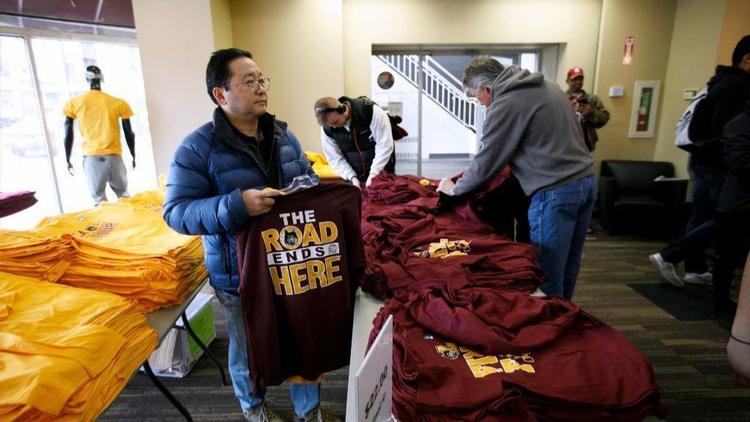 10,000 Sister Jean bobbleheads and counting: Loyola racking up merchandise sales ahead of Final Four By Lauren Zumbach
With a little more than 48 hours remaining before the Loyola Ramblers face off against the Michigan Wolverines in the NCAA Tournament's Final Four, sales of maroon and gold scarves and "Sister Jean" shirts continue to soar.
Here's how fans are helping Loyola University Chicago and sports merchandise-makers cash in.
Pop-up shops: Loyola's campus bookstores, run by Westchester-based Follett Corp., are opening pop-up shops to help handle traffic and new items. One shop opened at the university's Water Tower Campus on Michigan Avenue earlier this week, and another is expected to open next to the Lakeshore Campus store on Friday.
New inventory has been arriving hourly, Loyola and Follett said in a news release, including Final Four T-shirts, striped scarves and merchandise celebrating the unexpected star of the Ramblers' improbable run: team chaplain Sister Jean Dolores Schmidt.
"We are excited for the team and the community and thrilled to help students and fans show their Loyola pride by expanding our space and bringing in additional apparel and items in front of the big game this weekend," Stacy Zapko, bookstore group vice president, said in the news release.
T-shirt sales: Fans were buying online too, although Loyola, which had been leading sales at licensed sports merchandise-maker Fanatics earlier this week, lost that title to Michigan.
Still, Loyola led the Final Four teams, which also include Kansas and Villanova, in merchandise sales in eight states between Monday and Thursday: Illinois, Wisconsin, Iowa, Mississippi, Alabama, Oregon, West Virginia and Vermont, according to Fanatics.
Fanatics had already sold more Ramblers apparel from Saturday through Tuesday morning than the entire rest of the season.
Bobblehead star: "Sister Jean" herself appeared to be a particularly hot commodity. As of Wednesday afternoon, the National Bobblehead Hall of Fame and Museum in Milwaukee had sold more than 10,000 bobbleheads of Schmidt wearing the signature Loyola scarf, co-founder and CEO Phil Sklar said in an email.
That's more than three times as many group's next-best-selling bobblehead, made for Clemson University's 2016 NCAA champion football team, Sklar said.
Earlier Sister Jean bobbleheads, made for a game in 2011, were listed on eBay for $200 or more.
What makes Schmidt different? "I think her attitude, her positivity, is what the nation has really fallen in love with," Sklar said in an interview.