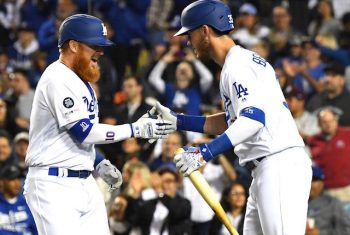 Written by: Matthew Morino and published on Dodger Blue.com
With "Game of Thrones" winding to a close, memorabilia related to the show has continued to grow in popularity as fans seek to obtain products that will help with immortalizing HBO's hit series. Officially licensed by MLB, FOCO created Los Angeles Dodgers x "Game of Thrones" bobbleheads.
The collection took Cody Bellinger, Clayton Kershaw and Justin Turner, and transformed them into "Game of Thrones" versions of themselves. Also available are bobbleheads of an Ice Dragon, Night King, While Walker, Kingsguard and Direwolf, with each featuring a Dodgers touch.
Bellinger's bobblehead has him sitting on the famed Iron Throne, while Turner is dressed as a member of the Night's Watch. Kershaw is positioned atop a Fire Dragon figurine. The Kershaw bobblehead is additionally offered as part of a set that includes an Ice Dragon as well.