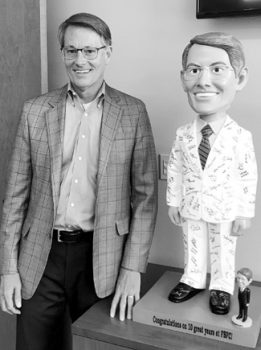 Written by: GM Today.com
OCONOMOWOC — Followers of First Bank Financial Centre on Facebook have been engaging in a fun contest each Wednesday since 2015 that allows them the chance to win a $10 gift card.

The contest, called "Where's Mark Wednesday" features a photo of a bobblehead version of the bank's president & CEO, Mark W. Mohr, somewhere in the world. The first person to correctly guess the location wins. In the four years the bank has been posting the pictures, the bobblehead has traveled across the United States and internationally, including stops in Africa and Europe.

Locally, First Bank Financial Centre has branches at 2300 Washington St. in Grafton and 11715 N. Port Washington Road in Mequon.

On April 11, the Mark W. Mohr bobblehead was officially "inducted" into the National Bobblehead Hall of Fame and Museum.

Founded in 2014, the National Bobblehead Hall of Fame and Museum is the world's largest collection of bobbleheads, with over 6,500 unique bobbleheads on display from all genres and periods. It is located at 170 S. First St. in Milwaukee.

"When we started this contest, we had no idea how big it would become," said Jeff McCarthy, marketing director at FBFC.

"It's a unique, fun way for our followers to discover the bank's personality, and we're honored to have a little bit of our culture on display at the National Bobblehead Hall of Fame and Museum," he added.

To learn more about FBFC, follow the bank on Facebook or visit FBFCWI.com.

Headquartered in Oconomowoc, FBFC is a full-service community bank focused on meeting the financial needs of local businesses and individuals.

The bank has served southeastern Wisconsin since 1859 and has 14 fullservice branch locations and six loan offices.